Ice Ice Baby :
Second day . Rain . Aghbalou-Asni-Tahannaout : 60 km .I see a lot of doubting faces this morning. We had to get up early to load the bikes in the truck. The people who brought their own bike stay to watch how the guides pile the two-wheelers into the open container only separated by pieces of cardboard. They decide to put two layers of bikes. Then they put a large net over it.Wow. Even the +/-5000 euro Epic with World Cup SID forks is transported this way. I'm glad I didn't put my new parts on my bike before coming. We hope all comes out in one piece. The bus drives us to the mountains. It will be our first ride in the Atlas-mountains. When we get out of the bus it is still raining, sofly, teasingly.The bikes are ok, no damage. We get on the bike and start climbing immediatly . I'm not that much of a climber, certainly not long climbs that go on for kilometres like this one. I put my bike in a medium gear and notice that I don't need to shift a lot. It is going to be a tempo climb without many difficulties, ok, good for me. We can't see too much of the nature, everything is covered by the low hanging clouds. I pass the tandem, man and wife are pushing it hard. YEAH the bike of course, you dirty minds. Respect to them, they will do well .
I notice that the air I'm breathing is getting colder and colder, feet and hands get cold. Suddenly without having much attention for it we find ourselfs climbing in the snow . I think it is around 0°C . I try to get the gear on to the smallest chainwheel but it refuses. I stop to fix it. Then we get a little descent. I pass a lot of bikers doing this very slowly. I want to stay warm and drive quickly. The disadvantage of this is that I get a lot of icy water in my face and on my legs. Then a little piece uphill and we are halted for our brake. I wanted to continue to keep warm but the smell of a warm meal is too attracting.They lead us into a small shed with a small heating. What I see in there is dazzling. 30 bikers packed up to each other trying to stay warm and eating their meal with shaking bodies. I don't feel to bad, only my feet are freezing. I meet a collegue biker in there , I was talking with him a long time yesterday and I notice he is in bad shape. He only has two layers of not too warm clothes. I offer him a spare windstoppershirt I carry arround in my backpack. I still have a light fleece in there for myself .Yes I tend to carry a lot for the ''you-never-know - moments''. This proves to be one of those.
I hear that the ride for today is shortened for safety reasons. Instead of climbing some more, we can continue downhill from this point also. My friends decide to do it calmly , scared of the icy water. I want to get down in a warmer atmosphere as quickly as possible. I get hit by two snowballs projected at me by two local girls playing in the snow, good aiming, they have fun. I pretend to be wounded badly.
I ride fast trying to avoid as much as water and deep muddy plashes. I only succeed half. I get very dirty. What a nice downhill this is. Almost down I meet the first part of the group. The sun is peeking through the clouds and then we continue to the place where the bus is waiting.
Some of the die-hards decide to ride to the hotel on bike about 35 km . I doubt , yes I can do it but I see the guides and busdriver strongly discouraging us because of the dangerous traffic. Some of us leave. I decide to take the bus after all it was a tough ride. Then I meet the guy with my t-shirt again, he is thanking me a 1000 times, I was happy to help him. He looks much better now too.
We arrive to the hotel and the daily ritual restarts. Bikewash, bodywash, bikecare, eat , sleep. I change my rear brake pads, they are totally gone. A guy using the same brakes as me says his pads are even more destroyed. I don't believe him. He shows me and he is right, even half of the spring keeping them together has disappeared.
At the dinner table we are accompanied by a very beautiful local gazelle who is responsible for entertaining the guests in the hotel. Her goal is clearly to get us into the bar after the meal. We are too tired and go to bed. It would be our daily habbit.
48 km 3h34min
UP: 1920 hm DOWN: 1869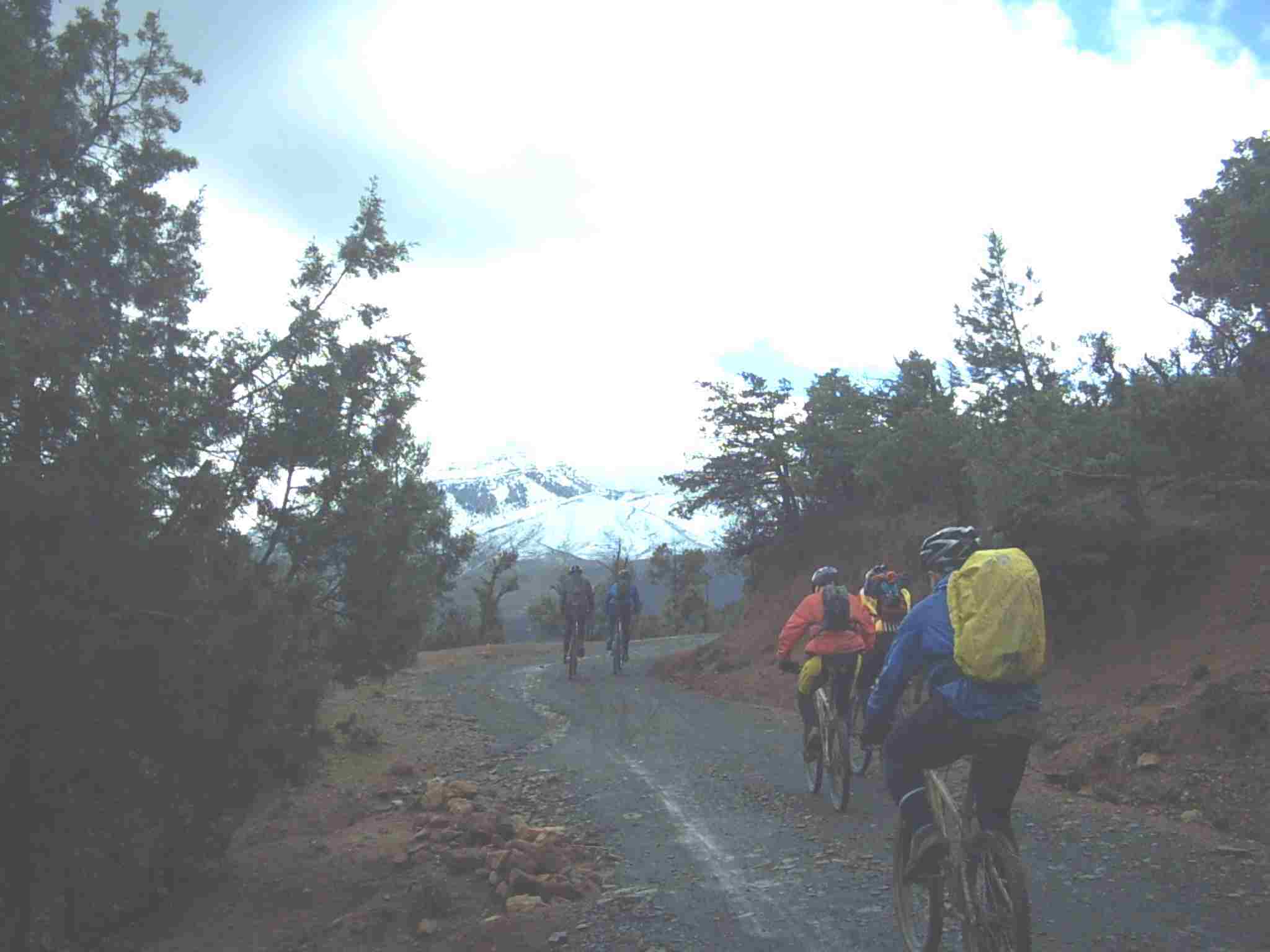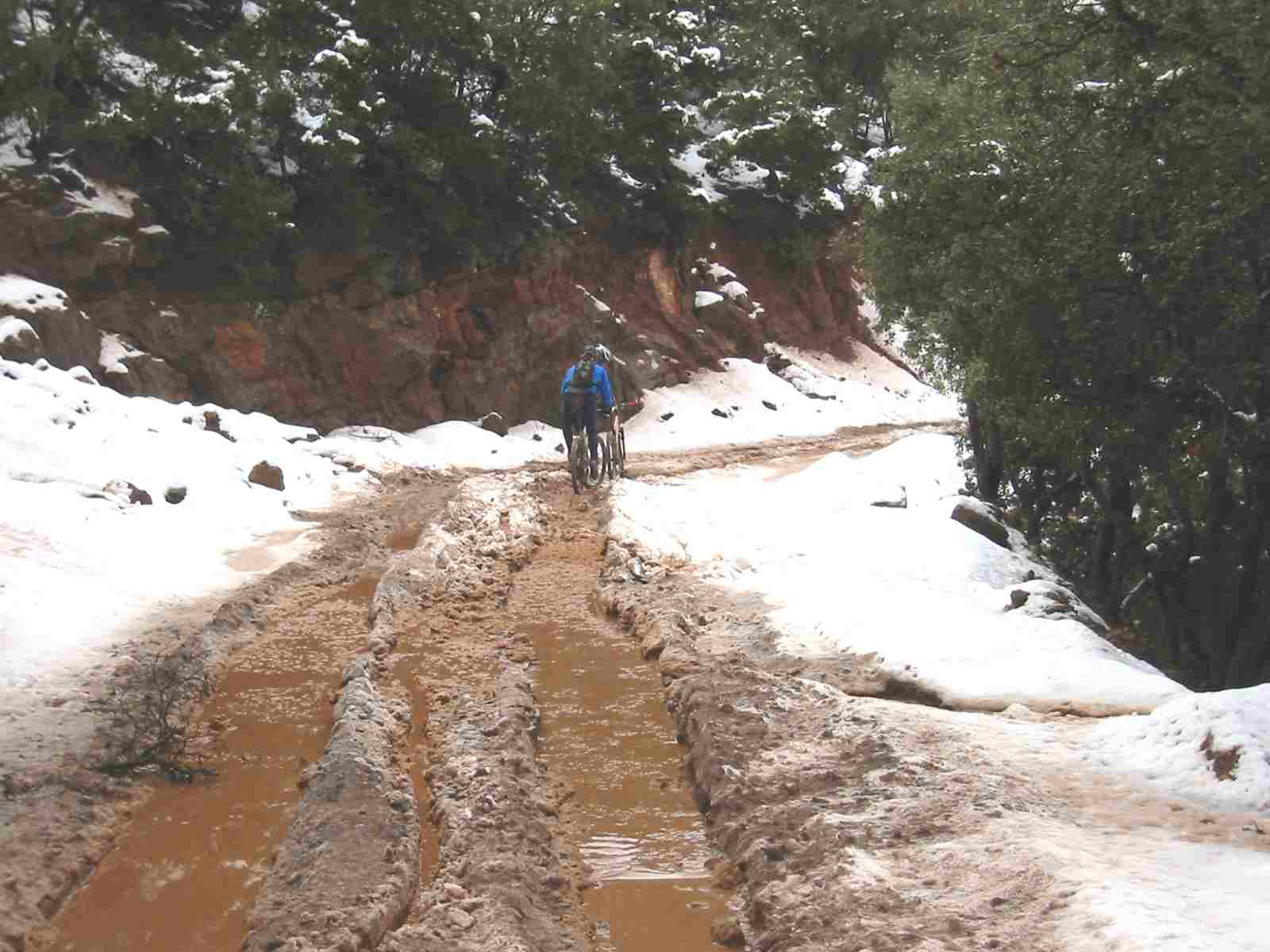 picture by Sven Caluwaerts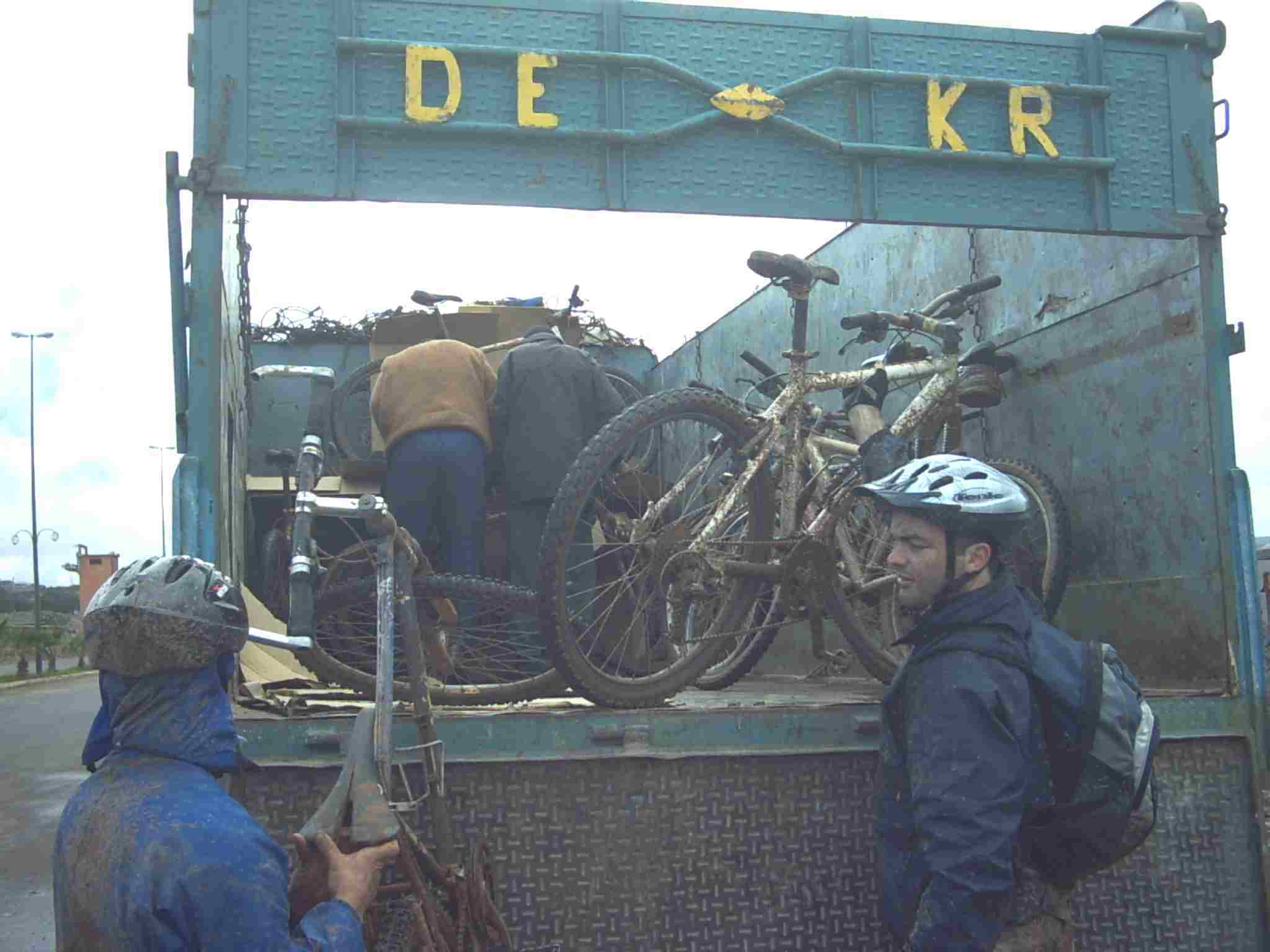 High Five:
This day we can choose: take a rest at the hotel, bike or do the ride in the jeeps to visit the same places as the bikers. I choose the second.
We are transported to a place in the mountains called Telouèt near mount Tichka (2260 m). It takes a 3 hours to get there .We visit the local Kasba with the people who take a day off and then get on the bikes.This place is beautiful, I take a lot of pics.
I feel my legs working and enjoy the sweet pain. I start smiling : the weather is beautiful, same for the nature and views and the track is what I like best: fast. Small but steep climbs are followed by short descents: this is for people who can push the big chainwheels ! If you are strong enough you can use the speed from the downhill sections to get on top of the climbs. The soil is red-browny with sharp stones sticking out , the sky blue, the trees are green, the high- Atlas is grey with white snow on top. The bikers are multi-coloured. It is a feast to watch it all. We rush through little villages and are welcomed by the locals. The children stand on the side of the roads. They put up there hands, I see the hands of the little girls are decorated with henna , and we understand they want a high-five. Where do they know that from ? I find the answer quickly. Some of their modest houses have a dish-antenna. I give them a friendly look and a clap on their hands. They look happy. Pens and sweets are being distributed.
At noon we get a perfect lunch package and enjoy the sun. This is the kind of ride I never would have liked to miss.And it goes on and on. So perfect. The smile never disappears from my face. I just have to stop sometimes for a picture, can't let it go by. We let a local boy sit on our bikes and push him a bit on it. He is enjoying himself. We decide there is no use in hurrying in the last part and take it slowly . The guide says it is only 5 more kilometres and we dont want it to be over so soon . On our way to the jeeps we talk about the day, all have a good feeling about this one. We drink a coke in the great kasr Ait Ben Haddou en then the jeeps takes us back to the hotel. The jeeps take a shortcut through a bumpy track in the stone dessert and our bodies are shaked to the bone. The trip lasts about 3 hours again. The driver does 130 km/h in a 40 km/h zone , we are not to happy about that. It is dark when we arrive . I take my bike from the jeep and wait for the minibus. I put my wheel in there. No, it is gone. I hear the Epic guy cry out his bike isn't there anymore? I panic a bit, where is my front wheel. About an hour later I find it in another minibus the Epic arrives also, in pieces ? huh ???.They changed it to save space. In the tumult my gloves and buff get lost , I think I left them in the Jeep. What a day !
50km 2h53min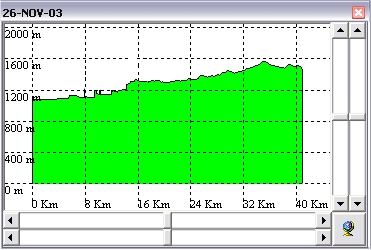 UP: 573 hm DOWN: 235 hm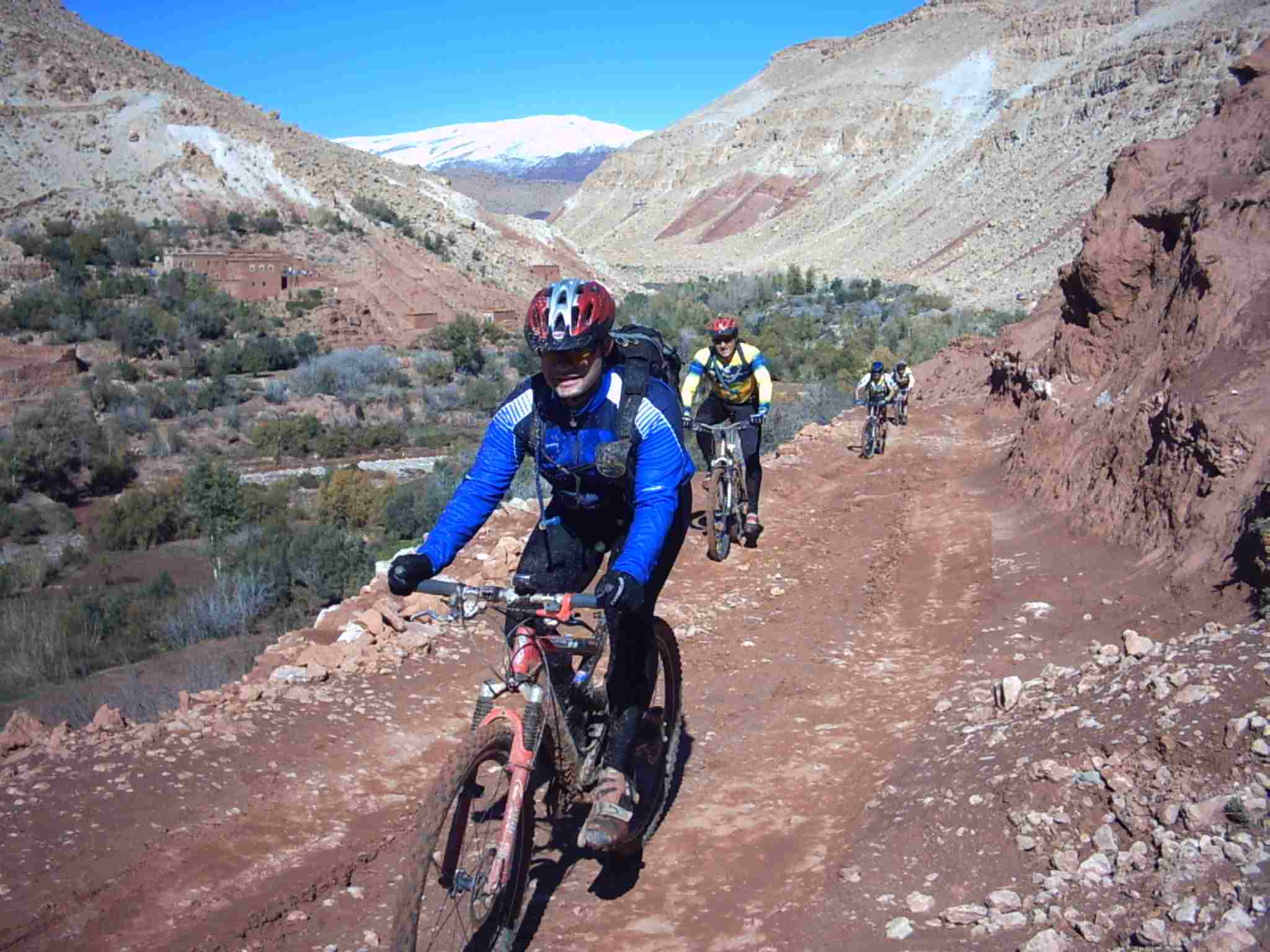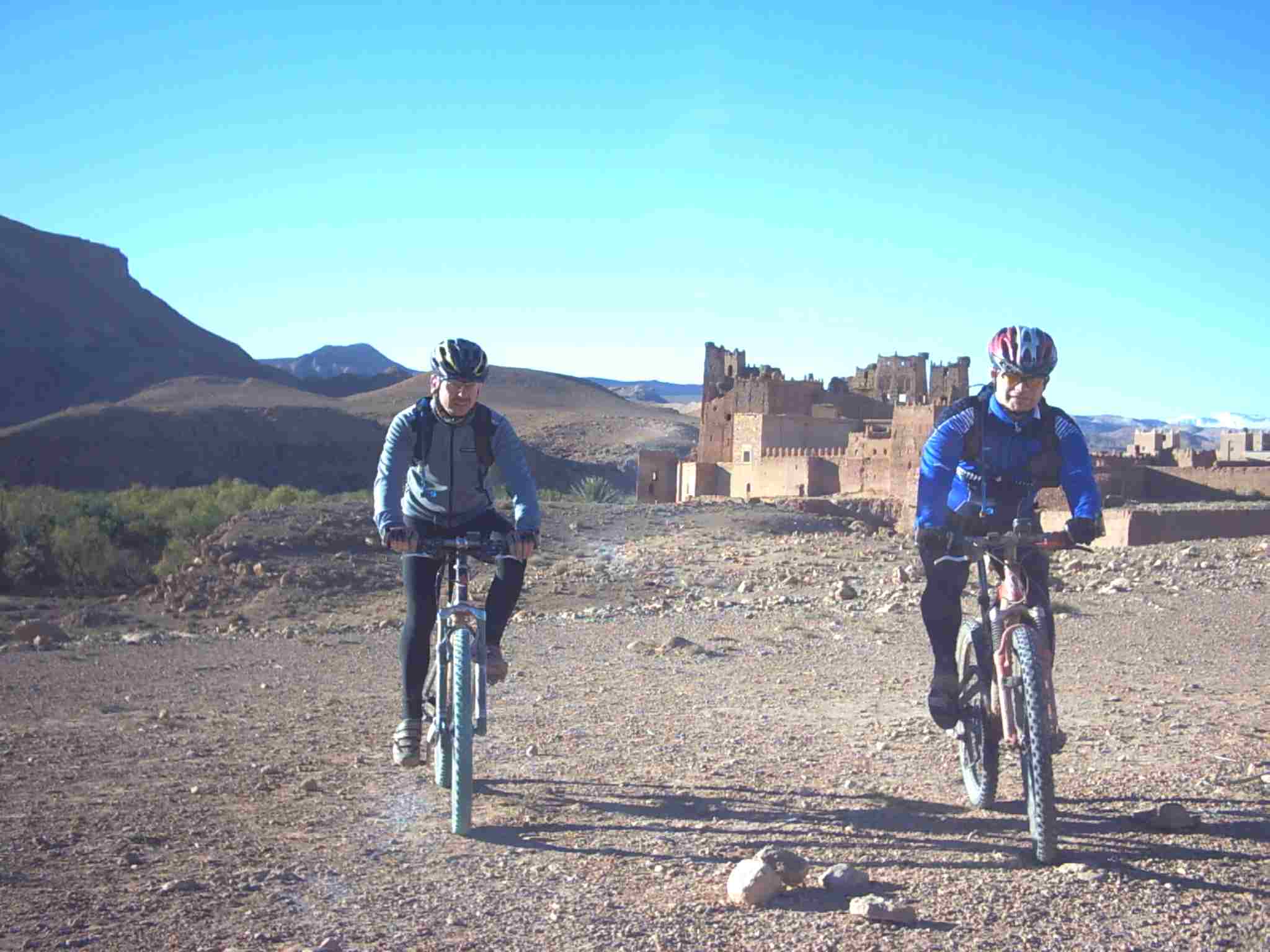 King of pain:
This is no holiday ! This is hard labour ! No time to even comb my hair in the morning ! Ok we're of for the next day . I hear the birds singing outside and they wake me up, at least it isn't 6:30 like yesterday. We don't need a long transfer today . The announcement in the hall is like this : 60 km from lake Lala Takerkoust to Asni 80 % up ! 48km climb or what ?
I decide not to panic and start the ride in group 2 with the figures of the day in my mind . The group starts speeding and within no time we pass group 1 that started few minutes before us. The terrain is hilly, not a big deal . I get into a group of about ten bikers and they are going for it . A jeep passes by and Saïd is hanging out the window taking pics. I feel good, but as a notice my heartbeat , I know they are riding a little bit too fast for me: I remember the figures. Luckily we have to stop for a big asphalt road crossing our track : which way is it ? We see a biker coming our direction from behind us: ''you took the wrong turn'' he is sighing. It is the guide .We did left instead of right ! We go right on to the road and he brings us to the right track. We pass Lake LaLa Takeroust . Then the hills become slightly more heavy and I have to let my collegue bikers go. I need to put power a lot and with every push I give I feel a gnawing pain coming out of my left hip and it radiates to my back.
I worry about it and I search for the reason: was it the cold of the first days, the OTB or did I just over-do it yesterday ? I notice that the only way to have no pain is climbing in an upright position on the bike. Not really ideal on a full suspension bike !
I take back some power and put the Scott in a easy gear. The nature is becoming more beautiful and I can see the track for miles ahead , nice....the path wrinkles through the hillsides and on the horizon I see the group I was wheeled out of . I pass one of them who has a flat tire. I yell if he's allright and he gives me the ok-signal. I ride on and on and I wonder how much of this 80% we did until now, I think it is not that much.
I am closing up to the first group and that is because they noticed that food is waiting for them . It is a strange sight, a table with food standing there in full nature, a jeep behind it and the High-Atlas in the back. We get a warm meal. Really good ! Bravo. We spend some time there.
I know we are not going to make a turn so the only way we can go is : up. It looks like a col. They call out that group 2 has to start riding. I go . There is no use in trying to be fast now , I have pain and I don't want to make it worse. I decide to do the rest of the day very calmly. It doesn't take long before group 3 flies me by . The climb is beautiful with hairpin curves. We can see the lake constantly. Getting of the bike to take pics is a good excuse to stretch my back. The soil is sandy and rolling .Children run next to me for hundreds of meters. I think I'm getting slow. They are not as friendly as the days before. People who want to give sweets have to experience that they want it all , some try to snatch away the candy ..... I decide not to give any.
Sit down, stand up, sit down , on and on . It never goes down now, it is constant climbing, never a restpoint . I don't find a rythm because the rise is never constant. Suddenly I remember the Police-song ''King of Pain'' and it won't go out of my head for the rest of the climb. The soil gets more rough, more stones ,we are getting higher and higher. You have to look on where to ride , careful not to run into pieces of rock. Choosing the ideal ridingline saves a lot of energy here. This is the point where I start taking back some of the guys that passed me before. Some really misjudged this climb. Then we ride a bit on a ridge, it doesn't go up as much any more. The local youth has put stones on the track like they want to make a dam : we hop over it or try to avoid them, some of them throw sticks . One of them little fools comes running next to me and pulls my bar-end and the laces of my back-pack. I have to push him aside trying not to fall .I do it gently but I regret doing it after that, I don't know why.
I can see the last piece of climbing in front of me and I notice one of my friends up ahead. Ok why not press everything out of this hurting body. I can finish the climb in his wheel without him knowing. When they see me already there my friends give me compliments about my climb and I'm satisfied too about the way I handdled this. The descent is short and fast and is on-road.
The bus is waiting and I buy some souvenirs before getting on it . Then someone calls : ''lets ride back by bike''. Today there is not a single hair on my body even want to consider that.
Back in the hotel my meal is a strange combination of all the local dishes . My dessert-part is equally big as the main course: I think I honestly earned it today . Santé.
59 km 3h34min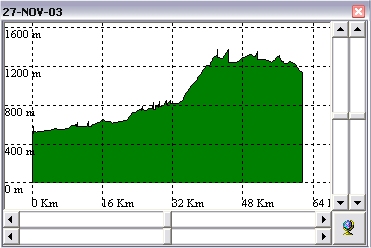 UP: 2061 hm DOWN: 1302 hm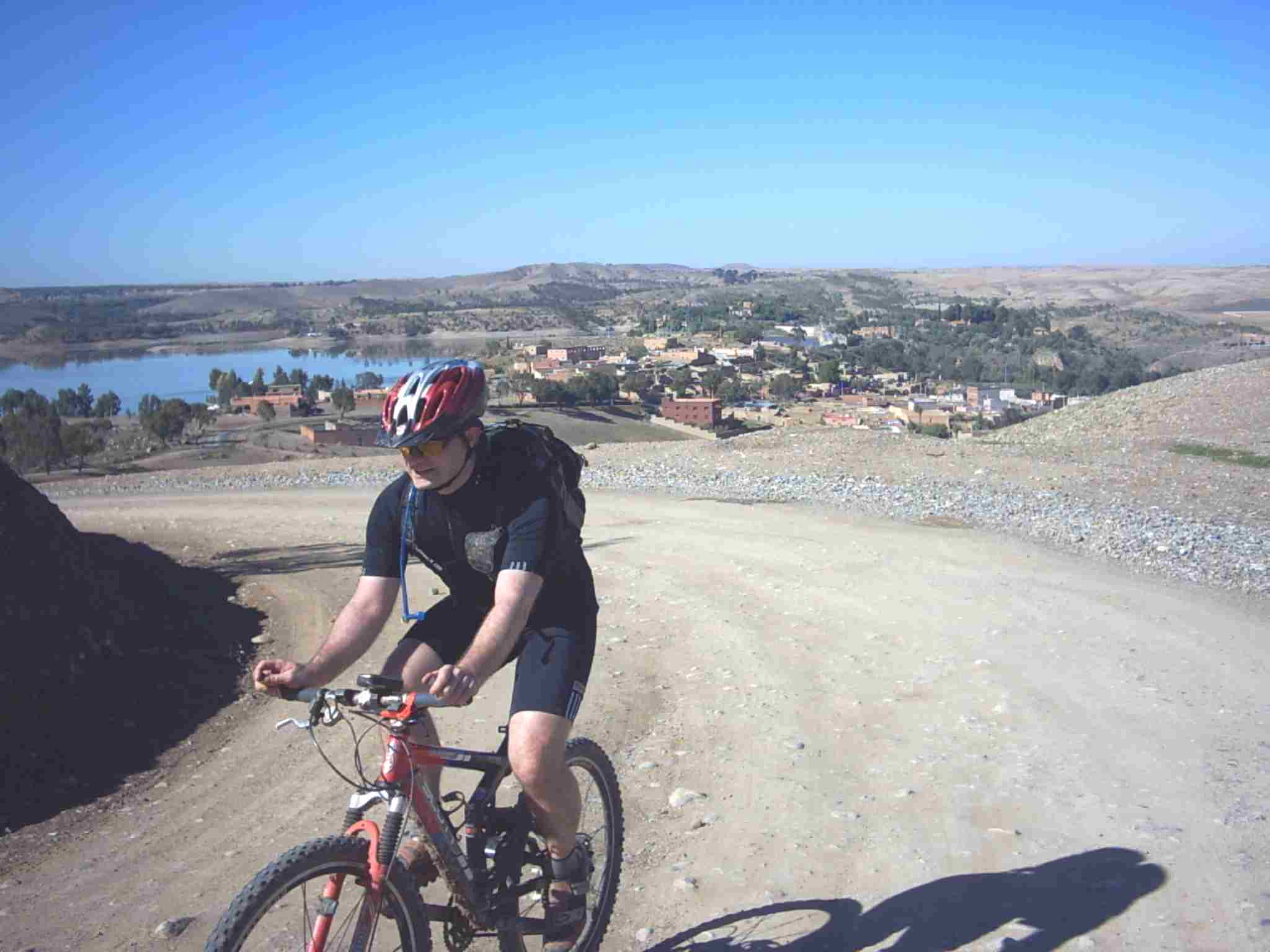 Terra cotta rear-derrailleur:
Friday . End of Ramadan. Moslim people will have their feasts now. I wake up at 7 am. I read the program for today and know that I 'll need a good breakfast. That is : plenty !!!!
Aghbalou-Asni-Tahannaout : 60 km or Aghbalou-Asni-Tahannaout-Bou Azza-hotel :90 + km.
I don't have any spare clothes but I can use my friends spare shirt and gloves from the icy-boy. Thank you guys !
We are dropped of in the hills. The sun is shining and I go back into the bus to put suncreme. When I come back out I notice group 2 has already started riding. I hop on the bike and start the pursuit. I think I know the climbs here now and I won't run into many surprises. There is no warm-up, the trail goes up immediately. I feel no pain anymore and start taking back riders . When I come out of a turn , I just miss a man on his mule. The mule is spinning and the man gets dizzy I guess. Haha. I apologize.
Then I recognise the shed we had lunch in on the second day. My friends wait me here. Instead of going downhill, we do the part that was cancelled before.
Here I have a deja-vu. The snow has melted, but the soil is so muddy, even worse than the first day. It sucks , it gets between , it gets onto, it slips off, it blocks..... oh dear. A friend of mine even calls it names....... the mud don't reply..... hahaha, I have fun, but I get really dirty again.
In the end of the climb in the muddy part, the guys from group 1 start passing us by. Then we get our food, again no complaints. The view is beautiful.
We gather for a photo of the group. Then we get ready to attack the downhill section. I notice that the mud hardened out on my bike. It looks like a terra cotta masterpiece. It just needs some time in the oven.
Downhill. Full speed.Off-road.Sharp stones. Fast turnes. Brakes are squeeling. I pass some locals. Slow down. This takes a while. Then we come down in the valley . We need to cross a bridge, but it is not completed yet, so we carry the bikes.
In this village the jeeps are waiting us. I see we only did about 40 km. So where is the 90 km? The first group leaves quickly. Then the guide starts explaining what to do.
We talk and discuss the possibilities. A group of 9 bikers is formed and we start riding back to the hotel on the road. The others are left behind still doubting on what to do. On road means going quickly in this case. We change possition constantly. Each of us rides in front on turns. We do about 20 km still in the mountains. Then we are stopped by Saïd again, we can continue like this, or take a shortcut , off-road ! A second group comes to join us. Yep, off-road it is. It is a nice track, flat sometimes even slightly downhill and the speed is really high altough the effort is light . We take some jumps over ditches and bumps, enjoying the end of the journey. Then I feel my bike steers strange. Flat tire . I get no chance to repair it myself. People I don't know jump out of the 4x4 and start putting in my spare inner tube . Ok , I'm not going to fight about it. I can leave within a minute or two. I ride about 300 m and notice that this is the end of the track. I smile, never had mechanical troubles and now in the last meters ............ We have to continue for about 10 km through Marrakech city..... it is fun but dangerous. We warn each other for dangerous wholes in the road, cars, mules, bikes. I can hardly breathe here. Looks like the cars run on oil. They exhaust a blue smoke. Finally we reach the hotel. The counter stops at 94 km. We give each other a hand , to say thanks for the cooperation and clean the bikes.
Before dinner we get a reception and we say thanks to all the guides and the organisation. Nice job dudes. Saïd receives a helmet as a gift and he smiles like always.
94km 4h14min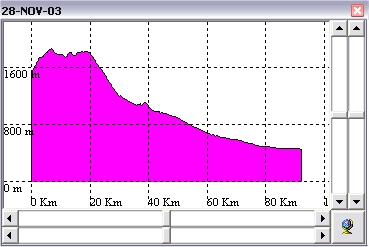 Up: 716 hm DOWN: 1806 hm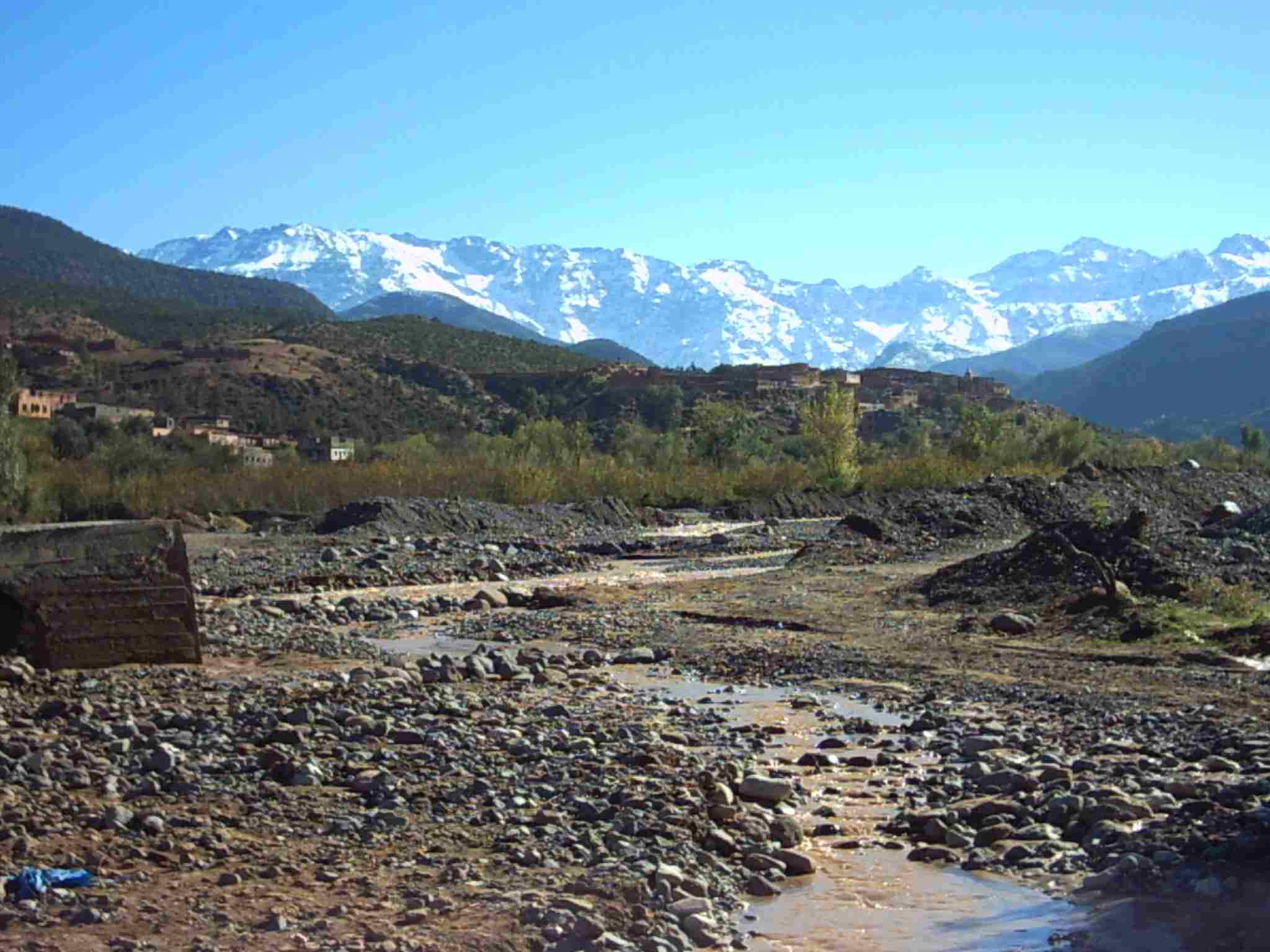 Marrakech :
Last day. Finally we can get up when we want . Today I put my bike in the box and help my friends to do the same. We pack the bags and put them at the reception. This is it.
In the afternoon we leave for Marrakech once more and hang around at the Jamaa Al Fna square with the singers, snakes, apes, waterseller and the souks. We buy gifts and discuss prices for sports. We enjoy the colors,smells and sounds. We eat in a restaurant with a view on the square .A scene from the Indiana Jones film comes to mind.We decide to go back and stay at the hotel, first near the swimming pool and after in the bar to drink our last mint tea.
At 6 pm we leave for the airport. No troubles this time . Not all the bikes can come. The tandem stays behind I think and maybe some others.....
I'm happy to see mine in Brussels.
It is 04:00 when I take of my clothes to go to bed ... I can still smell the typical herbs from the souks hanging in my clothes.
Another adventure completed.
THE TOTALS :
294 km
5641 hm
16h54min
17,4 km/h avg
All the tracks are available on GPS file (.mps standard for Garmin).
If you need them ask them !
Conclusion:
The Pros:
- Morocco itself with the people and nature
- The rental bikes
- the guides
- tracks
- organisation (90 bikers must have been a real task)
- the hotel
- the mountainbike -spirit : we are here to ride and help each other
- meeting some people for first time that I only knew from the net forum : Erwin, JFK , Minna, Morphan thx and all the others of course.
The Contras:
- too little information from the part of the travel agency.
- a booklet with information about the rides and tracks and program with distances and altitudes would have been nice.
- transfers to the start of some rides is really long
Links :
O2 bikers mountainbike magazine
Report made by Jeffry Goethals